I've been to EdCamp before and have been blown away each time. Such was the case at my most recent EdCamp experience at #EdCampMadWI this past Saturday. With a sunny, snowy Sunday and some calming tea, it's time to pull up the stakes on #EdCampMadWI and choose a next course of action: Get one in my own backyard.
So, I did some

homework

. I read How to EdCamp. I networked with EdCamp organizers. I volunteered to help out. I learned a ton...but still, I wanted more. I became involved in the planning/organizing/execution process. The experience allowed me to collaborate with some pretty amazing and dedicated colleagues (not to mention break in a new pair of great kicks). And, now I know exactly what the next move is to bring one to a neighborhood near me.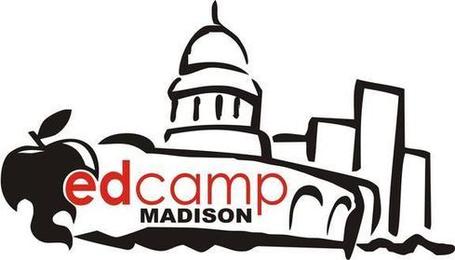 Geographical Disclosure: I reside on the "westside" of Wisconsin, in a rural area with 100 miles between major university cities and dozens of little burghs, villages and yes, coulees and dug-ways dotted in between. Having numerous opportunities for EdCamps like

#EdCampMKE (Milwaukee)

,

#EdCampGB (Green Bay)

,

#EdCampMadWI (Madison)

and

#EdCampOshKosh

, we are immensely lucky in Wisconsin. All amazing venues; all in far more metropolis locations than my neck of the woods.
Wonderfully, there's a growing desire to host an EdCamp on the "westside." We have teachers in schools 90 miles away from each other. We need to find a way to bring them together and share the phenomenon that is EdCamp...and be able to support them through authentic professional development opportunities.
Why EdCamp? Oh, don't get me started, but do allow me to break into my inner Letterman and present

Kaye's Top Ten Reasons for Why EdCamp?:
Connect, connect, connect - via Twitter, via coffee clutch, via handshake
Become comfortable with "unstructure" - with EdCamp's blank schedule and impromptu session proposals
Drive your own growth by proposing a session (no powerpoints necessary)
Expand your PLN, Professional/Personal Learning Network, with like-minded colleagues from all over
Win fabulous door prizes from fabulous sponsors - who the heck doesn't like free stuff?
Enjoy amazing eats - breakfast, lunch and refreshments are provided...again, free of charge
Realize that you're not alone - guaranteed there is someone at EdCamp who is struggling with the same educational issues you are
Increase your own digital literacies - try new apps, web tools or programs shared by others
Renew your faith - in your skills, your colleagues, your calling and yourself
It's free
The whole EdCamp movement to offer organic, learner-driven professional development to educators still boggles my mind, but that's what makes it so appealing. Giving up a Saturday to come away with new learning and an expanded professional network (and yes, new friends) is definitely something we need on our side of America's Dairyland.
The beautiful part? Conversations are happening to get this machine operating on Wisconsin's west side. Interest is there. Commitment is there. So, hang on to your hats West Central Wisconsin educators. EdCamp is on its way. The biggest question now is will it be #EdCampCouleeWI (Thanks, Beth!) or #EdCampNorthwoods?
Whatever the name is, I have no doubt the "westside" will soon reap the benefits our "eastside" colleagues, counterparts and friends now celebrate...and it will be in our own back yard! Who's with me?