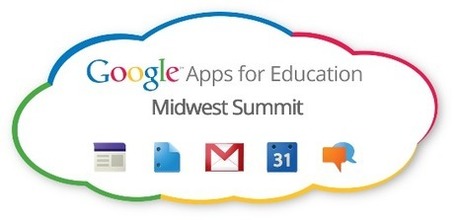 The last week was a whirlwind for me, professional developmentally speaking.
I recently attended the 2nd Annual Midwest Google Apps Summit in the beautiful Wisconsin Dells, Wisconsin. This conference was attended by roughly 600 other Google enthusiasts from all over the Midwest.
PD MISSION:
Gather, bring back and share how we can better incorporate Google Apps for Education in our district (we are fully integrated with GAFE).
Rewind a week.

I attended

the 39

th

Annual Conference for the Association of Middle Level Education in the beautiful Portland, Oregon,

that hosted over 15,000 educators. I presented one session but was mostly there for my mission.
PD MISSION:
Learn about literacy collaborative and how to implement scheduling changes to best meet the needs of our middle level learners...and technology integration tools, of course! Can't leave a conference without those!
Let me just say one thing: BANG.FOR.YOUR.BUCK.
In this day and age of budget constraints and districts strapped for cash, EDU organizations really need to look at what they're offering and what participants take away for their time and money spent. I have to say that while I make it my mission to learn as much as my noodle can manage, and I mean absolutely no disrespect toward organizers. There was simply a marked difference between my two recent experiences.
Through the magic of the surprisingly quiet #AMLE2012 backchannel, I knew Tom Whitby (@tomwhitby), educational reform blogger and moderator of Twitter's #edchat, was also in attendance. My feeble attempts to seek him and his Hawaiian shirt out for a face-to-face connection faltered, but his blog about EDU Conferences meeting the needs of attendees struck a chord with me. I initially thought I was just spoiled by ISTE and other "connected educator" conferences, but Tom's thoughts (and subsequent comments on his post) assured me I wasn't alone.
Don't get me wrong. Any time I attend a conference, summit, workshop, webinar...I always bring back

my

"Big Three":
Something I can use with my students (now, my staff) immediately on Monday (or whatever day I'm returning);

Something I can develop and incorporate in the next few months; and,

Something I can develop and integrate either next semester or next year.
..and from both of my experiences, mission accomplished.
Here's where Mr. Whitby got me thinking. I paid for my own registration, airfare and lodging to attend a national conference to hear nationally renowned presenters on a movement, however near and dear to my heart, that quite frankly is not progressing as I see other EDU movements out there. I wanted critical, innovative information regarding the literacy collaborative reform that was ensuing in our middle school. I found some, but not enough, relevant resources worthy of sharing with colleagues. In fact, the most irksome issue for me was having to literally beg presenters for access to their presentations. I didn't want stuff - papers, handouts, flyers. I wanted links. Access to resources. Connectedness.
Fast forward a week.

I hopped in the car, drove a couple hours and stayed with family to attend the Google Summit. I was afforded links to every single presentation shared via one, convenient Google Site. I was able to connect with and ask (way too many) questions of the Google Certified Trainers presenting. I had a rather lively Twitter stream at the hashtag #mwgs brimming with resource-sharing that I am currently diverting myself from sifting through by blogging because I know my "Favorites" cup overfloweth.
Coming full circle:

Sharing is caring. I guess I feel that whatever people can glean from my experiences at any professional development opportunity is truly bang for your buck! I've updated my entire Google for the Classroom resources. Feel free to use what you want!